To be a great researcher, you need to understand one fundamental fact: you create value through the work of others. So if you fail to inspire your colleagues to action—even with sound research—your job is incomplete. Instead of a more user-friendly design, you may be rewarded with blank stares (or an eerily quiet thread on Slack).
That's why it's so important to bring your stakeholders into the research process. Kakau and Carlos, design manager and research manager on Nubank's growth team, have done exactly that—and turned their research sessions into lively communal events for folks to enjoy and learn from.
By bringing in larger groups to observe their research, Kakau and Carlos have discovered some incredible benefits that boosted impact and excitement around their research.
Drive Real-time Discussions in the Chat
Kakau and Carlos use Lookback's live chat feature to get their teammates talking about what they're seeing in the session.
Getting everyone together like this gives your teammates the opportunity to (1) steer the conversation and (2) get a deeper understanding of the participants' experiences.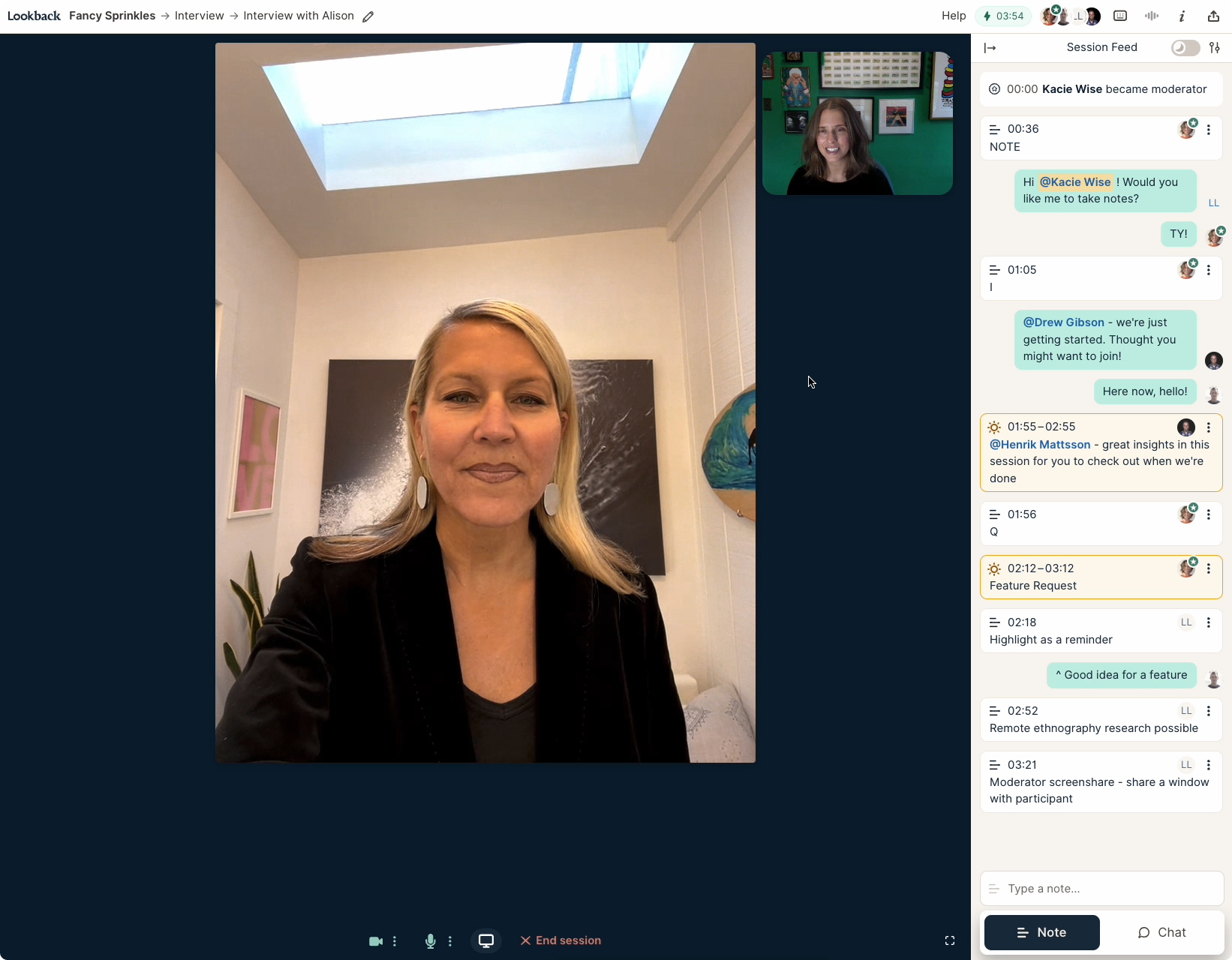 Suddenly you'll have stakeholders engaging directly with your research, opening up new opportunities you may not have seen yourself. Here are some ways your team may steer the conversation:
Noticing interesting expressions and comments from participants
Generating new questions to ask the interviewee
Interpreting how the participant is responding to different parts of a design
The live group chat means your team can be more engaged in the research, more connected with the user, and more excited about the next research project.
Get the Team on Your Side From the Start
Live watch parties are fun for the whole team, but more importantly, they reduce the burden on any communications you share after the session.
Sure, you can still write and share your report—but many of the stakeholders will already be on your side. They'll naturally view your research from a place of understanding and user empathy since they got to experience it first-hand.
That's why the Nubank team set up watch parties: so that bigger and bigger groups of folks are encouraged to tune in and share the learning experience together.
Extend Your Impact
You may be thinking that getting folks to attend your sessions is easier said than done—but it's not as difficult as you might think. One of the reasons Kakau and Carlos are able to generate so much interest in their research sessions is because the team can feel the immediate impact of each conversation.
With so many folks watching, there's tons of opportunities to catch little problems in the user's experience and make improvements right away.
For example, when PMs are tuning in, they'll be able to notice bugs and route the issue to the right engineers to make a quick fix. At the same time, designers who watch can quickly chat with the team about copy or accessibility updates that can be implemented the next day.
"We noticed that in some sessions, PMs will see a bug in a new experience we're testing or getting feedback on, and be able to immediately reach out to the engineer responsible for the feature to fix it. So the impact is immediate."
When larger groups are tuning into your research sessions on Lookback, the impact is palpable. When a team member misses out on a single research session, they risk missing out on insights and upcoming changes other team members have already talked about and planned.
All that to say—if you make the best use of your team in these sessions, the incentive to attend will be sky high.
Generate Conversations that Matter
As researchers, it's easy to get excited about methods and synthesis and recruitment and all the fun aspects of a research project.
But it's critical to remember that it's the conversations we have with our team that drive impact—not simply the research we do. Whether it's through Lookback or with other approaches, making sure you have broad participation and large discussions will hugely increase the impact of research on your team.
Or as Kakau and Carlos love to say: "Research is more fun when you do it together!"